The Santa Shop
(Book 1, The Santa Conspiracy)
AVAILABLE NOW
in Trade Paperback & E-book!
The Santa Shop's
Hollywood Ending
AVAILABLE NOW
in E-book only, All Formats!
Skip Ralstat is a man so steeped in grief and despair that life seems no longer possible. After the death of his wife and child, Skip blames himself. He has given up his friends, his job, and even his home. Now, homeless, he survives on the mean streets of Albany. He knows it can't go on, that life must end. But will it?
Come join him on his most unusual road to redemption. The salvation of one life...lies along this road.
Let the healing from "The Santa Shop" begin.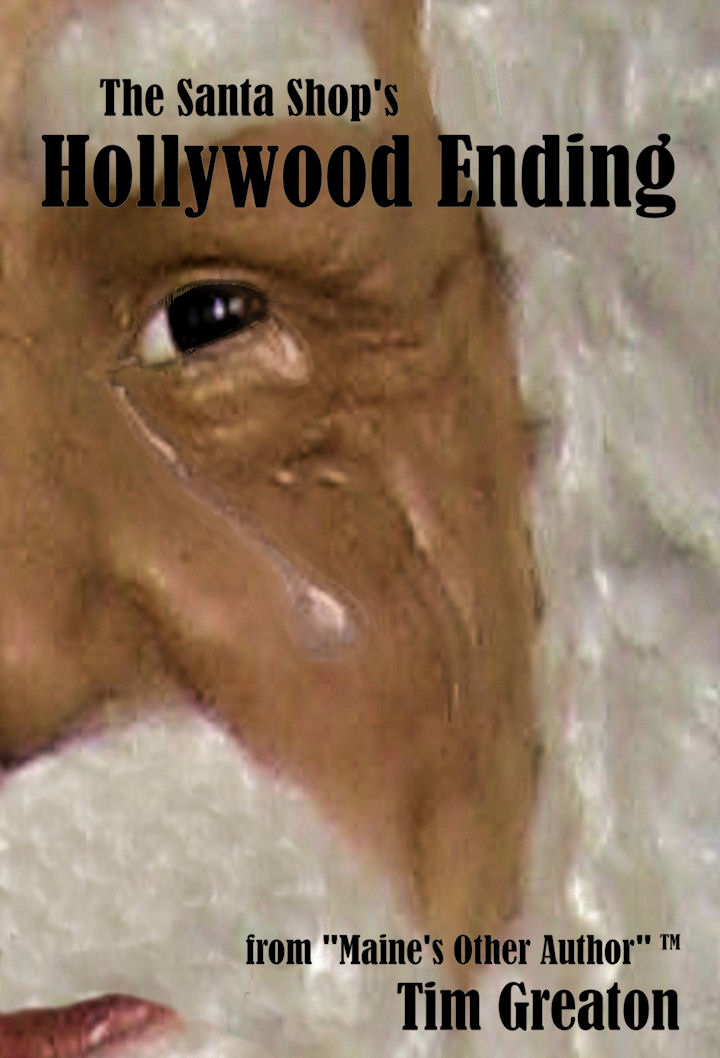 If you are a fan of The Santa Shop, the first book in Tim Greaton's "The Santa Conspir-acy" series, then you're sure to love this extended ending to that first novel. Written for one of the major Hollywood Studios, this extended ending revisits Skip Ralstat one year after he and Karen leave picturesque Gray, Vermont, the birthplace of the Santa movement.
However, if like the rest of us you were buoyed by theoriginal Santa Shop journey, your heart will soar at the unfolding miracle of Skip's

Available in Trade Paperback and most E-book formats.

Read Sample Chapters
new life—a life salvaged from a tragic past.
Let "Maine's Other Author"TM take you on a rollercoaster ride once again. Come laugh and cry with the master of emotional stories—Tim Greaton.
This is NOT a stand-alone novel and should NOT be read until you have enjoyed The Santa Shop.
Trade Paperback $7.99
(You save $4.96!)

Shipping to all US locations $3.99
The Santa Shop's
Hollywood Ending
E-Book Now Available
All Formats!
$0.99
Available now through all fine e-book Retailers.